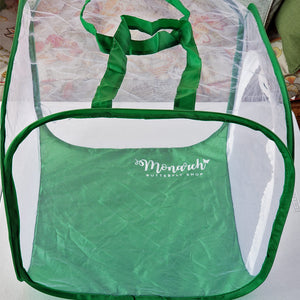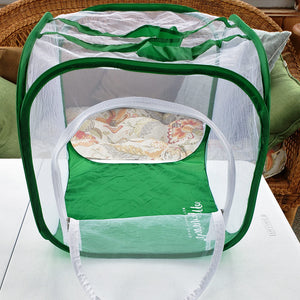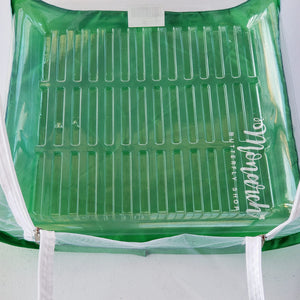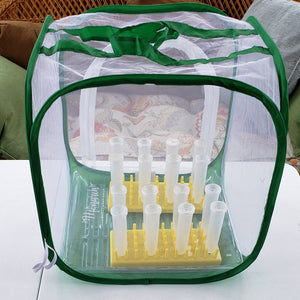 Baby Cube INVISImesh Caterpillar Cage w/ Drawbridge Door 15"x15"x15"
Description

Shipping & Returns
 Raise Up to 15 Monarchs through their butterfly life cycle in a mesh pop-up cage that's slightly larger (15" by 15" by 15") than a traditional small cube cage:
For Indoor Use or Outdoor Area protected from wind/rain/predators
INVISImesh- See Caterpillars from all 4 sides of mesh cage easily

 

with NO viewing window
Our window cages (with tightest mesh) recommended for outdoor raising if cage exposed to tiny ants or parasitic wasps...they can enter

any

cage outdoors when the door is open)

Drawbridge Door

-

 flap hangs down and won't get in your way when cage cleaning or inserting/removing monarch eggs & caterpillars

NEW

 Zipper Protectors- avoid zipping accidents with caterpillars on cage wall zipper track
Fine mesh keeps small 🐛 in and small predators 🐜🕷 out 

Increased height holds larger milkweed cuttings than traditional cubes

Handles for easy portability

Side opening door- never interrupt chrysalises on the cage roof! 
Green Cage folds flat for easy storage.
Add Floral Tube packs + racks to keep milkweed fresh for caterpillars (not included)
Add Poo Poo Platter for easy cage cleaning and floor stability if carrying (not included)
Check out our Instructions Page for additional cage and accessories info
All Butterfly Cage/Kit customers receive an invite to our

Closed Facebook Group

 to discuss raising monarchs + post your photos
Save 15% when you bundle a cage with the How to Raise Monarchs Downloadable Guide (this guide also contains info on finding eggs or purchasing them from vendors, if needed)
US Mainland Standard Shipping (2-6 business days) $7.95
US Mainland RUSH Shipping (2 business days) $25 (order before 1pm ET for same day shipping)
US Hawaii, Puerto Rico, Guam, VI, Alaska weight-based Standard Shipping (2-6 business days) $10.95-$25
No Canada Shipping available at this time
No International Shipping available at this time
We Pay US Mainland Standard Shipping when you spend $50.00+ on Raising Cages, Supplies, and Books
60 Day No Hassle Returns for Unused Raising Supplies
complaint
wind knocks it over even w/large rocks in base...loss 2 crysalis that were attached to roof....No I do not have a screen in porch....what do you do when temps reach 100 degrees F, garage too warm, house to cold
Hi Sue, if you're raising outside, try to keep out of wind/rain/full sun...also, if a rock isn't heavy enough, use a something heavier like a paver from a hardware store. Happy Raising!
Always satisfied
Have purchased the baby cube several times in the past. The size is perfect and easy access to taking care of cats with the draw bridge opening. Was a little disappointed when it wasn't in stock for awhile when needed more
enclosures for our monarchs. I appreciated the email informing me they were back in stock. Thank you!
Always great products and service
My latest order arrived promptly, and as always I am very pleased with all of the butterfly raising supplies. Thank you!
Baby Cube - Watching a Monarch's Life Cycle with a Clear View
Although I have only raised one Monarch so far this season it was amazing and wonderful watching it grow from this tiny little white dot on a milkweed leaf to the magnificent butterfly it grew to be-the Monarch.
I have the taller cage as well, my hope is to find more eggs to raise before the season is over.