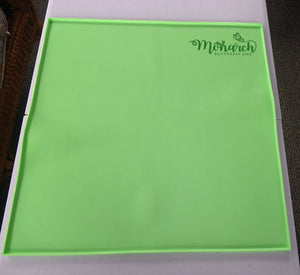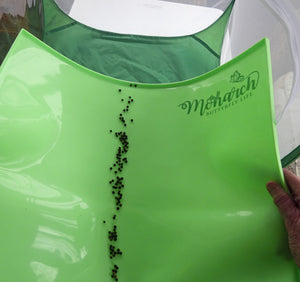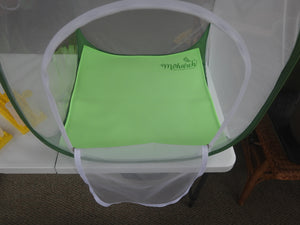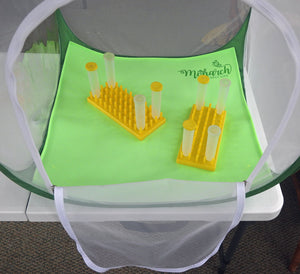 Soft Poo Poo Platter- Large Caterpillar Cage Liner 22.5"x22.5"x.5"H
Description

Shipping & Returns
Our new and improved fitted, bendable poo poo platter caterpillar cage liner for easy cage cleaning fits perfectly on the floor of your BIG Cube or Monarch Tower butterfly cage:
22.5"

 

bendable platter fitted

 

for the BIG cube and

 

Monarch TOWER

 

cages (will not fit other cages)
Caterpillars

 

can't

 

crawl under rim to form a chrysalis 
Gives BIG cube and Monarch TOWER

 

cages a

 

solid floor

 

so they can be carried around without spilling cuttings containers inside
Bend

 

sides slightly toward the center to easily insert or remove liner
Remove insert (filled with caterpillar frass/poop) and dump in garbage.
Rinse out, dry, and put back in the cage
Set milkweed cutting containers, plants, or leaves on platter
Milkweed Cuttings containers

 

won't slide

 

on silicone surface
Check out our

 

Instructions Page

 

for additional cage and accessories info
All Butterfly Cage/Kit customers receive an invite to our

 

Closed Facebook Group

 to discuss raising monarchs + post your photos
Save 15%

 

when you bundle 1 physical raising item with the How to Raise Monarchs Downloadable Guide (this guide also contains info on finding eggs or purchasing them from vendors, if needed)
US Mainland Standard Shipping (2-6 business days) $7.95
US Mainland RUSH Shipping (2 business days) $25 (order before 1pm ET for same day shipping)
US Hawaii, Puerto Rico, Guam, VI, Alaska weight-based Standard Shipping (2-6 business days) $10.95-$25
Canada weight-based Standard or Expedited Shipping (low customs fees included at checkout)
International weight-based Standard or Expedited Shipping (low customs fees included at checkout)
We Pay US Mainland Standard Shipping when you spend $50.00+ on Raising Cages, Supplies, and Books
60 Day No Hassle Returns for Unused Raising Supplies
This mat makes easy cleanup and the butterflies like resting on it
Butterfly cage and poo platter
The product arrive in a timely fashion and in good shape. I guess I didn't pay attention to the size I ordered. It's 24x24x36". I think I would fit in it. Hopefully will be able to have a successful hatching of a lot of chrysalis in the near future.
WOW!
I honestly thought this wasn't necessary and would be a waste of money. I did not realize how much poop comes out of one caterpillar, outrageous. We raised four. Plus it also protects the enclosure from the inevitable water spills. You need this if you're raising Monarchs.
The poo poo trays make it much easier to clean out the enclosures. Love the peg style holders for the floral tubes. Lots of valuable info on your website and in your emails. Have been raising monarchs for a few years now - your supplies and your shared insights make it a lot easier. Many Thanks !
All my raising cages come from Tony, along with most of my information and advice. LOVE YOU, TONY! Ordering is easy and FAST. The new poo platter is great, as I have had crysalides under the rim of the hard plastic ones. Keep up the great work! PS looks like a good year so far here in NW Florida.