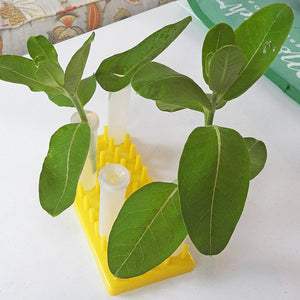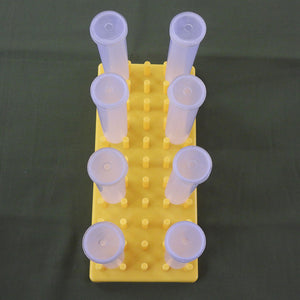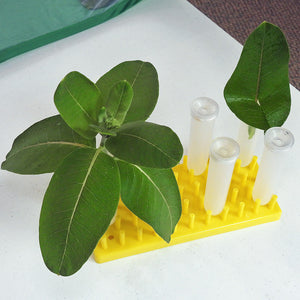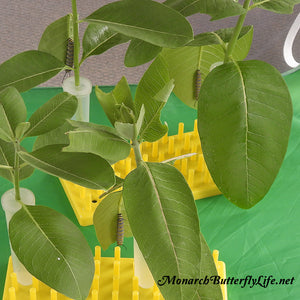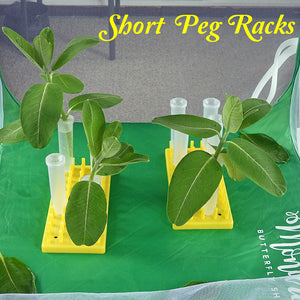 1 SHORT Peg Rack + 8pk Fat Cat Floral Tubes
Description

Shipping & Returns
Super-Sized 50 ml Large Floral Tubes that fit securely in our new short Peg Rack Holders to keep cuttings upright and secure for your munching monarch caterpillars 😊

8 pack of large floral water tubes + 1 short peg rack 
Short pegs so your caterpillars can't form a chrysalis on the rack ...caterpillars will crawl off to form chrysalis on cage roof. 
9" by 4" racks with 40 slots to space out 8 tubes over each rack
fit 2 racks in baby cube or tall baby cages
fit 4 racks in big cube or monarch tower
48 ml capacity- our largest floral tubes for less refilling
Saves Milkweed...and ⌚️
New and Improved 

flat lids

 on floral tubes (won't pool water or 💩)
Lids also easier to remove
Use for milkweed stem or leaf cuttings (or other host + nectar plants)
Easy to clean & Reusable
Floral Tube racks are the most secure way to elevate tubes, space out caterpillars, and keep them from crawling around in 💩
US Mainland Standard Shipping (2-6 business days) $7.95
US Mainland RUSH Shipping (2 business days) $25 (order before 1pm ET for same day shipping)
US Hawaii, Puerto Rico, Guam, VI, Alaska weight-based Standard Shipping (2-6 business days) $10.95-$25
No Canada Shipping available at this time
No International Shipping available at this time
We Pay US Mainland Standard Shipping when you spend $50.00+ on Raising Cages, Supplies, and Books
60 Day No Hassle Returns for Unused Raising Supplies
Great option!
Sso much better than puttong plants in there, no soil to soak up frass, no bugs, etc. Much easier to clean butterfly house, too, just lift them out and clean. I use a can of compressed air to blow out frass and also to clean off the floral tubes stands. Definitely cut leaves at 90 degree angle and lightly knick bark above-I found by using warm water, the leaves don't wilt and last five says unless I have a bunch of large piggies in there!
Essential Butterfly Houses
The butterfly houses from Monarch Butterfly are very well designed and essential to raising healthy butterflies. The is my first attempt at raising butterflies, and the homes from Monarch Butterflies provided safety and security. I currently have 15 Monarch chrysalis and am looking forward to setting the butterflies free! I highly recommend Monarch Butterflies.
Good Quality
It does what it is supposed to do
Racks/floral tubes
Love these! They are sturdy and practical to have. The floral tubes hold a good amount of water so they don't need to be filled every day! ⁸One of my friends saw them in a post of mine and bought some for herself!
Tubes and rack were as expected. Correct size and everything is good.