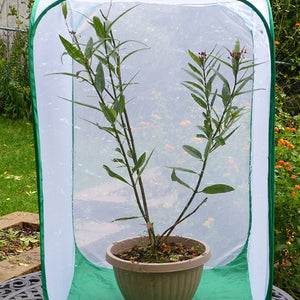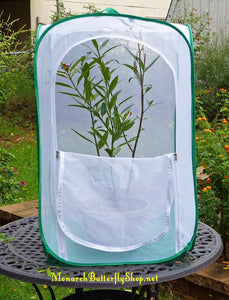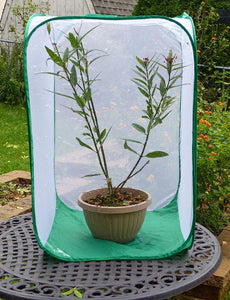 Monarch TOWER Butterfly Cage w/ Viewing Window- Raise Monarchs on Milkweed Plants 24"x24"x36"H
Description

Shipping & Returns
Raise Up to 30 Monarchs through their butterfly life cycle in this large mesh pop-up cage (24" by 24" by 36"H) designed to hold large stem cuttings or milkweed plants:

For Indoor Use or Outdoor Area protected from wind/rain/predators

Drawbridge Door

-

flap hangs down and won't get in your way when cage cleaning or inserting/removing monarch eggs & caterpillars

 
Finest mesh keeps baby 🐛 in and smallest predators 🐜🕷 out 
side-opening door...never disturb chrysalises on the cage roof! 
Add Floral Tube Packs + Racks to Keep Milkweed Fresh (not included)
Can hold milkweed plants up to 3 feet tall
Green Cage folds flat for easy storage.
Clear PVC Window to observe monarchs while they grow and transform
Check out our Instructions Page for additional cage and accessories info
All Butterfly Cage/Kit customers receive an invite to our

Closed Facebook Group

 to discuss raising monarchs + post your photos
Save 15% when you bundle a cage with the How to Raise Monarchs Downloadable Guide (this guide also contains info on finding eggs or purchasing them from vendors, if needed)
US Mainland Standard Shipping (2-6 business days) $7.95
US Mainland RUSH Shipping (2 business days) $25 (order before 1pm ET for same day shipping)
US Hawaii, Puerto Rico, Guam, VI, Alaska weight-based Standard Shipping (2-6 business days) $10.95-$25
Canada weight-based Standard or Expedited Shipping (low customs fees included at checkout)
International weight-based Standard or Expedited Shipping (low customs fees included at checkout)
We Pay US Mainland Standard Shipping when you spend $50.00+ on Raising Cages, Supplies, and Books
60 Day No Hassle Returns for Unused Raising Supplies
Great product
This is the second butterfly tower I have purchased. The first worked so well that I needed another during busy times. Perfect for keeping monarch caterpillars contained and safe during their development.
Great size for potted milkweed plants
These Cubes help to prevent wasp from killing the Monarch Caterpillars - we now have 39 chrysalises between the 2 cubes with more caterpillars eating the milkweed plant inside. Have to replace plants often, so plant in containers that will fit in the cube.
Love the 24x24x36 cubes. This is my third one. Hoping to release even more monarchs in Ohio this year!
Swallowtail castle
This stays outside on my deck and houses fennel and rue plants with black and giant swallowtail cats. I was having issues with ants, so we made a moat out of a baby pool. Then we had mosquito issues so I bought goldfish for the moat. It's a perfect set up. This is my second one since the first one was on its last leg. It had been in use for a year or two.