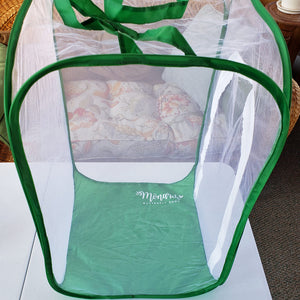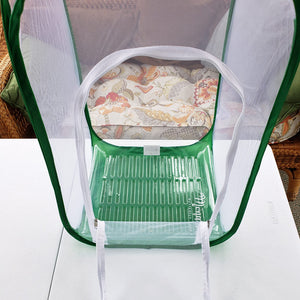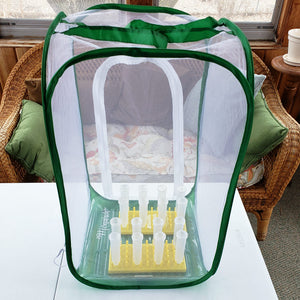 TALL Baby INVISImesh Caterpillar Cage to Raise Monarchs...and More! 15"x15"x24"H
Raise Up to 15 Monarchs through their butterfly life cycle in a mesh pop-up cage that's 9" taller (15" L by 15" W by 24 H") than our baby cube cage so you can use bigger stem cuttings or small potted plants 🌿🐛
For Indoor Use or Outdoor Area protected from wind/rain/predators
INVISImesh- See Caterpillars from all 4 sides of mesh cage easily

 

with NO viewing window
Our window cages (with tightest mesh) recommended for outdoor raising if cage exposed to tiny ants or parasitic wasps...they can enter

any

cage outdoors when the door is open)

Drawbridge Door

-

flap hangs down and won't get in your way when cage cleaning or inserting/removing monarch eggs & caterpillars

Fine mesh keeps small 🐛 in and small predators 🐜🕷 out 

Handles for easy portability

Traditional side-opening door: never interrupt chrysalises on the cage roof! 
Green Cage folds flat for easy storage.
Add Floral Tube packs + racks to keep milkweed fresh for caterpillars (not included)
Add Poo Poo Platter for easy cage cleaning and floor stability when carrying (not included)
Check out our Instructions Page for additional cage and accessories info
All Butterfly Cage/Kit customers receive an invite to our

Closed Facebook Group

 to discuss raising monarchs + post your photos
Save 15% when you bundle a cage with the How to Raise Monarchs Downloadable Guide (this guide also contains info on finding eggs or purchasing them from vendors, if needed)
Tall Baby INVISImesh Caterpillar Cage
I'm very happy with the product.
It was needed to be ready for the Fall Migration of Monarchs.
I purchased one like it before and needed this second one because the one was too crowded with the volume of caterpillars this past Spring.
Love the cage
This is our second cage. Released two butterflies yesterday. So easy to release from the cage.
New butterfly house
We received our package. We have not used it as we already had caterpillars in an older/ smaller butterfly house. This new one we purchased is for next season so we will have more space to collect more eggs and or caterpillars. Thank you very much.
monarch supplies
The addition of your supplies has helped us raise 18 butterflies.
Absolutely Perfect!
I am on my 2nd clutch. Monarch & &Black Swallow Tail. They should come out of their Chrysalis this week! Thank you for such a great product!