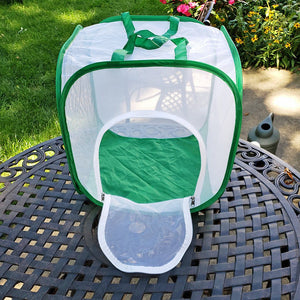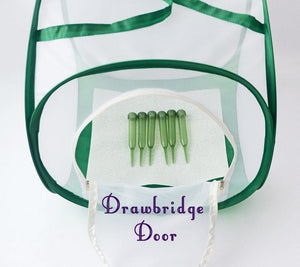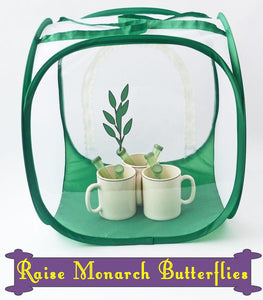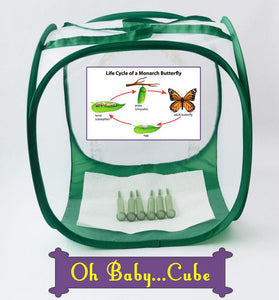 Baby Cube Butterfly Cage w/ Viewing Window 15"x15"x15"
Description

Shipping & Returns
Raise Up to 15 Monarchs through their butterfly life cycle in a mesh pop-up cage that's slightly larger (15" by 15" by 15") than a traditional small cube cage:

For Indoor Use or Outdoor Area protected from wind/rain/predators

Drawbridge Door

-

 flap hangs down and won't get in your way when cage cleaning or inserting/removing monarch eggs & caterpillars

NEW

Zipper Protectors- avoid zipping accidents with caterpillars on cage wall zipper track
Finest mesh keeps baby 🐛 in and smallest predators 🐜🕷 out 

Increased height holds larger milkweed cuttings than traditional cubes

Handles for easy portability

Clear PVC Window to observe monarchs while they grow and transform
Side opening door- never interrupt chrysalises on the cage roof! 
Green Cage folds flat for easy storage.
Add Floral Tube packs + racks to keep milkweed fresh for caterpillars (not included)
Check out our Instructions Page for additional cage and accessories info
All Butterfly Cage/Kit customers receive an invite to our

Closed Facebook Group

 to discuss raising monarchs + post your photos
Save 15% when you bundle a cage with the How to Raise Monarchs Downloadable Guide (this guide also contains info on finding eggs or purchasing them from vendors, if needed)
US Mainland Standard Shipping (2-6 business days) $7.95
US Mainland RUSH Shipping (2 business days) $25 (order before 1pm ET for same day shipping)
US Hawaii, Puerto Rico, Guam, VI, Alaska weight-based Standard Shipping (2-6 business days) $10.95-$25
No Canada Shipping available at this time
No International Shipping available at this time
We Pay US Mainland Standard Shipping when you spend $50.00+ on Raising Cages, Supplies, and Books
60 Day No Hassle Returns for Unused Raising Supplies
Convenient Baby Cubes
Love them, got 2 to hatch black Swallowtail eggs on cuttings and raise there till moved to big cages, don't need much room while they are small. Also use one for 1st and 2nd instar Monarchs on cuttings in tube trays, then move to big cages later. Really convenient!!!!
I love watching the cycle Of the monarch butterfly in my garden
Monarch butterflies
I bought it as a present for my friend. She is delighted with it.
DAll sizes needed!
I have the Small Cube mainly for raising My eggs until They need a lot more of a branch then a few leaves to eat. I've also been raising Gulf Firtillary Butterflies. This is the perfect size Cage for these interesting catapillars and the type of branch They eat. I have always been extremely satisfied with My purchases from the Monarch Butterfly Life! I can always know the Service will be 💯 % guaranteed!!
He loves it
He just opened it as a gift, loves it, wishes I had purchased the taller one. Instructions on how to open (pull up the plastic side) would have been helpful. Btw, we recently successfully raised a female Monarch in a cat carrier