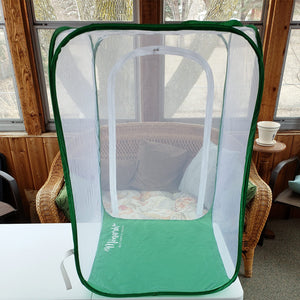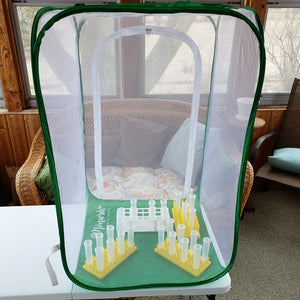 Monarch TOWER INVISImesh Caterpillar Cage- Raise Monarchs on Milkweed Plants 24"x24"x36"H
Description

Shipping & Returns
Raise Up to 30 Monarchs through their butterfly life cycle in this large mesh pop-up cage (24" by 24" by 36"H) designed to hold large stem cuttings or milkweed plants:
For Indoor Use or Outdoor Area protected from wind/rain/predators
INVISImesh- See Caterpillars from all 4 sides of mesh cage easily

 

with NO viewing window
Our window cages (with tightest mesh) recommended for outdoor raising if cage exposed to tiny ants or parasitic wasps...they can enter

any

cage outdoors when the door is open)

Drawbridge Door

-

flap hangs down and won't get in your way when cage cleaning or inserting/removing monarch eggs & caterpillars

NEW

 Zipper Protectors- avoid zipping accidents with caterpillars on cage wall zipper track 
Fine mesh keeps small 🐛 in and small predators 🐜🕷 out 
side-opening door...never disturb chrysalises on the cage roof! 
Add Floral Tube Packs + Racks to Keep Milkweed Fresh (not included)
Can hold milkweed plants up to 3 feet tall
Green Cage folds flat for easy storage.
Check out our Instructions Page for additional cage and accessories info
All Butterfly Cage/Kit customers receive an invite to our

Closed Facebook Group

 to discuss raising monarchs + post your photos
Save 15% when you bundle a cage with the How to Raise Monarchs Downloadable Guide (this guide also contains info on finding eggs or purchasing them from vendors, if needed)
US Mainland Standard Shipping (2-6 business days) $7.95
US Mainland RUSH Shipping (2 business days) $25 (order before 1pm ET for same day shipping)
US Hawaii, Puerto Rico, Guam, VI, Alaska weight-based Standard Shipping (2-6 business days) $10.95-$25
No Canada Shipping available at this time
No International Shipping available at this time
We Pay US Mainland Standard Shipping when you spend $50.00+ on Raising Cages, Supplies, and Books
60 Day No Hassle Returns for Unused Raising Supplies
Raising Eastern Black Swallowtail Caterpillars
I raise Eastern Black Swallowtail and had already purchased one 24"x24"x36" caterpillar cage. I eventually had 18 caterpillars eating my parsley and fennel and needed a second cage to hold them all. I am very pleased with the quality of this product.
good
can't wait to try it next season
Great Cage
I love the design of this cage. The extra flap on the zipper makes it easier to work around roaming caterpillars. I really enjoy the visibility through the light mesh. So much better than others!
Repeat
Like it so much I ordered another!
Amazing!
The improvements on the new cages are phenomenal - particularly the extra mesh ribbon covering the zipper to prevent caterpillars from getting caught in the zipper teeth! The new mesh walls also seam stronger but easier viewing as well. So, very pleased with my 2 new cages which were much needed with our bumper crop of Monarchs. We just released our 67th & have about a dozen more to go.