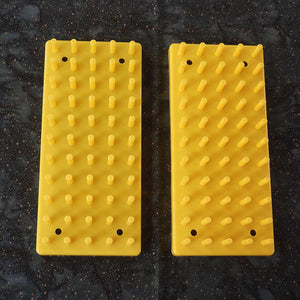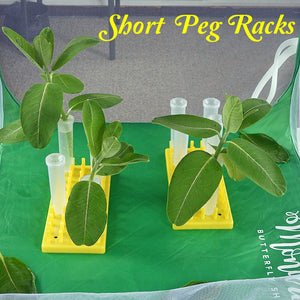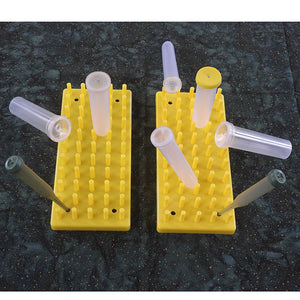 Twin SHORT Peg Racks BUNDLE for FAT CAT large floral tubes🌿🐛
Description

Shipping & Returns
Keep milkweed cuttings elevated with Peg Rack Holders that are fitted to hold our FAT CAT 50ml floral tubes:

2 short peg racks (FAT CAT floral tubes not included)
Shelfless peg racks your caterpillars can't form a chrysalis under...more caterpillars will form chrysalis from mesh roof of the cage. 
9" by 4" racks with 40 slots to space out 8 tubes over each rack
fit 2 racks in baby cube or tall baby cages
fit 4 racks in big cube or monarch tower
Use to elevate milkweed stem or leaf cuttings (or other host + nectar plants)
Other Tube sizes

won't fit securely

BUT pegs or holes can still be used to keep milkweed and other host plants off the cage floor (see last photo)
Easy to clean & Reusable
Floral Tube racks are the most secure way to elevate tubes and keep caterpillars from crawling around in 💩
US Mainland Standard Shipping (2-6 business days) $7.95
US Mainland RUSH Shipping (2 business days) $25 (order before 1pm ET for same day shipping)
US Hawaii, Puerto Rico, Guam, VI, Alaska weight-based Standard Shipping (2-6 business days) $10.95-$25
No Canada Shipping available at this time
No International Shipping available at this time
We Pay US Mainland Standard Shipping when you spend $50.00+ on Raising Cages, Supplies, and Books
60 Day No Hassle Returns for Unused Raising Supplies
Tubes for milkweed
I have not used these yet but I am looking forward to using them next season as I try to help the monarch butterfly population as they pass through my area.
Work great.
This is a must have if you are going to raise butterflies. Make sure to get extra so you can support your cats during your daily cleanup.
Raising Monarchs made easier
So thankful to have these fat at tubes and holders. Used to use little floral tubes and try to prop them up, very messy. Tubes hold a lot of water so I don't have to keep filling. Thank you for carrying these supplies. Sent 10 Monarchs on their journey, have 6 more waiting.
Extremely Pleased With My Purchase
I grow a lot of milkweed but was not seeing any monarchs this year. My sister ordered me some monarch caterpillar babies online and I ordered these trays and floral tubes so when they were large enough I could move them to a large mesh enclosure. I find that some caterpillars prefer to climb to their milkweed, whereas others are fine with eating milkweed leaves off of the floor of the enclosure. These floral tubes and trays made it very easy to keep the leaves fresh longer and also give the caterpillars who seemed to prefer climbing the ability to eat their leaves from an elevated position. I released a dozen monarchs a couple weeks later and I have since found 2 eggs on my milkweed plants which have hatched and are now instar 2's. We have also found three instar 5's in the yard looking for a place to J hang. I believe that at least one of the monarchs we released came returned to help populate our yard with more monarch caterpillars so this has been a successful adventure and I will continue to hopefully be able to bring only wild caterpillars inside without having to order babies online next season. But if I do need to order some, I will. But my goal is to get to a time when we finally have enough of a population so that I am only bringing in monarch eggs and babies cats from our yard where we grow not only about 40 milkweed plants but cone flowers, zinnias, sunflowers and many more that the butterflies love. Much of the credit goes to the excellent supplies I ordered from Monarch Butterly Life. Thank you!