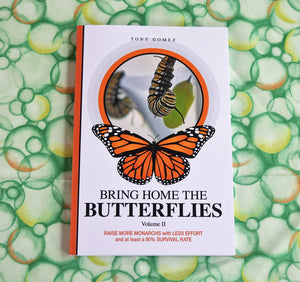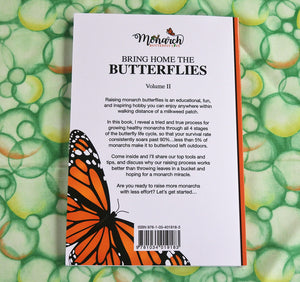 How To Raise Monarch Butterflies Print Book- Paperback Edition
 If you need raising info right away, our  ★

★

★

★

★ customer-rated guide is also available to download here:
This how to raise monarchs paperback print book contains the best raising tips and techniques I have discovered over the past four decades raising magnificent monarch butterflies.                                                                                                                      
By implementing these suggestions into your raising process, you will achieve more monarch raising success while helping the struggling monarch population grow!
107 Pages Paperback book
Color Photos throughout of monarchs and the butterfly life cycle
Online Resource Page for Additional Raising Butterflies Info
Join our Private Facebook group to have discussions about raising monarchs
15% OFF when you bundle 1 print book with 1 other Raising Supply
I love this book!
As a newbie in the monarch butterfly group, I need all the help I can get to learn how to raise butterflies. Step-by-step instructions with helpful images make this an easy process. I have been successful in raising 36 butterflies from caterpillars. I have also learned about which plants help them.
Interesting Read
The Book was written with a passion for all things Monarch Butterfly. I only wish I would ordered my items right away so I had time to gather eggs. I have to hold my excitement till next year. Read the book three times.
Lovely book!
This was the first year I found several monarch caterpillars in the yard. After finding and exploring the website, I decided to purchase the print book for handy reference. I love this book! The paper, printing quality including many photos with amusing captions, and layout are excellent. It's extremely easy to read, well organized, includes much of the basic information from the website, and is a delightful reference for beginners. I can also use it to easily show friends of all ages my new hobby. My shipment arrived quickly and in perfect condition.
So helpful
I'm so glad I got this book along with my order! It's been so helpful and is an easy read. There's a couple things I've still had to search online but then sometimes my search even leads me to the blog on this site! I highly recommend it to anyone who takes on raising multiple caterpillars- there's a lot more to it than I realized!
Does it have the milkweed error in it?