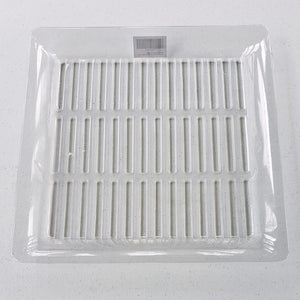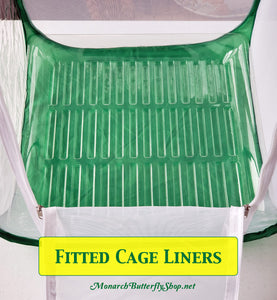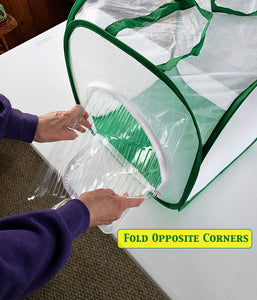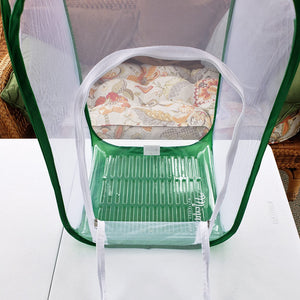 Poo Poo Platter- Fitted Small Caterpillar Cage Liner 14"x14"x1.5"H
Description

Shipping & Returns
This poo poo platter for easy cage cleaning has been UPDATED for 2022. Get more info and see new product and see ★★★★★ reviews:
>> CLICK HERE for New BENDABLE Poo Poo Platter <<

Our new and improved fitted  poo poo platter plastic caterpillar cage liner for easy cage cleaning fits perfectly on the floor of your baby cube or tall baby butterfly cage:
14" bendable platter fitted for the baby cube and tall baby cages (will not fit other cages)
Caterpillars

can't

crawl under rim to form a chrysalis 
Gives baby cube and tall baby cages a solid floor so they can be carried around without spilling cuttings containers inside
Bend opposite (diagonal) sides slightly toward the center to insert or remove liner
Remove insert (filled with caterpillar frass/poop) and dump in garbage.
Rinse out, dry, and put back in the cage
Set milkweed cutting containers, plants, or leaves on platter
Check out our

 

Instructions Page

 

for additional cage and accessories info
All Butterfly Cage/Kit customers receive an invite to our

 

Closed Facebook Group

 to discuss raising monarchs + post your photos
Save 15%

 

when you bundle 1 physical raising item with the How to Raise Monarchs Downloadable Guide (this guide also contains info on finding eggs or purchasing them from vendors, if needed)
US Mainland Standard Shipping (2-6 business days) $7.95
US Mainland RUSH Shipping (2 business days) $25 (order before 1pm ET for same day shipping)
US Hawaii, Puerto Rico, Guam, VI, Alaska weight-based Standard Shipping (2-6 business days) $10.95-$25
No Canada Shipping available at this time
No International Shipping available at this time
We Pay US Mainland Standard Shipping when you spend $50.00+ on Raising Cages, Supplies, and Books
60 Day No Hassle Returns for Unused Raising Supplies
My go-to site for all monarch needs!
Great product - fits perfectly and easy to clean. Nice steady surface to put the tube trays on. This site in general provides such helpful information and supplies for all monarch-raising needs! Thank you!
Poo poo platter
Works great. Easy to remove and clean.
Good fit, sturdy, easy to clean
I used potted milkweed to feed my caterpillars, and I can easily fit 3 plants in the butterfly cage with the poo poo platter. Clean up is easy.
Raising Monarchs
This is second time I have ordered from Monarcch Butterfly Life, my order came quickly and correct. ThankYou
Cleanup is a Breeze
Last year was my first experience with the poo poo platter and I was amazed at how quickly cleanup went and how I could remove and replace the platter with no struggling as it fit perfectly and created very little disturbance in the cage.