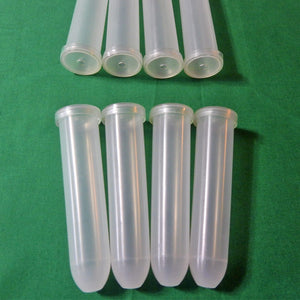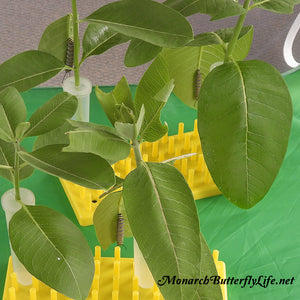 8 pk FAT CAT 50ml large floral tubes w/ FLAT Lids to feed caterpillars
Description

Shipping & Returns
Our biggest floral tubes that hold almost 50 ml of water to keep milkweed cuttings fresh longer:
48ml capacity large floral water tubes for less refilling
Saves Milkweed...and ⌚️
8 pack
New and Improved 

Longer Lasting FLAT Lids

won't pool water or 💩
Lids also easier to remove
Use for milkweed stem cuttings, other 🐛host plants, or to hold flower cuttings to feed 🦋
Reusable
Easy to clean
Tubes can be secured upright in traditional white floral tube racks with shelves or our yellow peg racks
US Mainland Standard Shipping (2-6 business days) $7.95
US Mainland RUSH Shipping (2 business days) $25 (order before 1pm ET for same day shipping)
US Hawaii, Puerto Rico, Guam, VI, Alaska weight-based Standard Shipping (2-6 business days) $10.95-$25
No Canada Shipping available at this time
No International Shipping available at this time
We Pay US Mainland Standard Shipping when you spend $50.00+ on Raising Cages, Supplies, and Books
60 Day No Hassle Returns for Unused Raising Supplies
Great products
I've ordered supplies several times from them over the last few years. I love all their products. The trays and tubes are essential for raising monarch butterflies. They are sturdy and easy to clean and I always get my order quickly.
Love these tubes!
The tubes and racks make it so much easier to rotate out plant stems and bring in nectar plants for new butterflies. Easy to clean and sterilize.
Very satisfied
I had so many eggs that I ran out of tubes for the milkweed. They came just in time. Thank you.
Great product!
In previous years, I used a vase to hold my milkweed stems. No matter how I tried to close off the top of the vase, caterpillars would sometimes fall into the water and drown. This set-up eliminates that problem!
Great products
Order extra it make's daily clean up easier