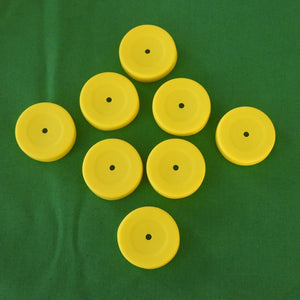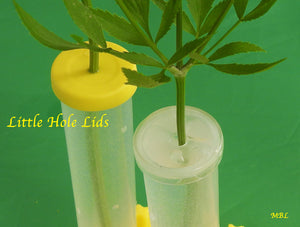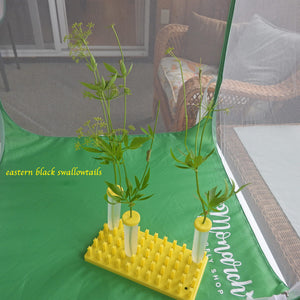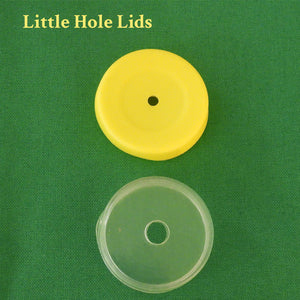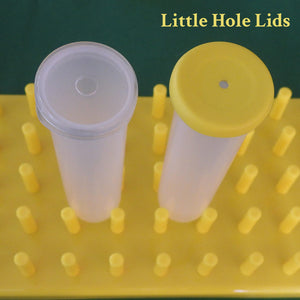 8-Pack Little Hole Lids for FAT CAT Floral Tubes: Lids w/ Smaller Holes
Description

Shipping & Returns
Fitted Large Floral tube LIDS with small holes to hold leaf cuttings and thin-stemmed milkweed cuttings. 
8 floral tube lids (floral tubes not included)
Small holes keep baby caterpillars safe by preventing accidental drownings 
Fitted for our

Fat Cat

50ml Large Floral Tubes
switch out lids based on cutting size
easy to put on and remove
US Mainland Standard Shipping (2-6 business days) $7.95
US Mainland RUSH Shipping (2 business days) $25 (order before 1pm ET for same day shipping)
US Hawaii, Puerto Rico, Guam, VI, Alaska weight-based Standard Shipping (2-6 business days) $10.95-$25
No Canada Shipping available at this time
No International Shipping available at this time
We Pay US Mainland Standard Shipping when you spend $50.00+ on Raising Cages, Supplies, and Books
60 Day No Hassle Returns for Unused Raising Supplies
Perfect
These are great for baby cats. They cannot drown in the holes. Very often now I put the single leaf with the egg as per your suggestion.
It eliminates "baby births and escapes" in a container. The babies are so
tiny when they emerge it is often very difficult to locate them in the container once the egg hatches if they crawl off the leaf.
Very happy
I am very satisfied with the tubes and the butterfly cages I purchase very very satisfied thank you so much!
Wonderful help!!!
These fat cat tubes with their holders and caps has saved me countless hours of work and more importantly, saved countless catepillars!!! Thank you for the simple answer!!
Perfect
My caterpillars loved munching on the small tender milkweed that I was about to give them thanks to these little hole lids!