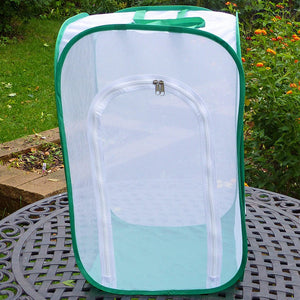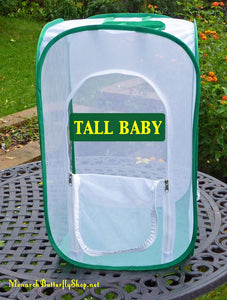 TALL Baby Butterfly Cage w/ Viewing Window to Raise Monarchs...and More! 15"x15"x24"H
Description

Shipping & Returns
Raise Up to 15 Monarchs through their butterfly life cycle in a mesh pop-up cage that's 9" taller (15" L by 15" W by 24 H") than our baby cube cage so you can use bigger stem cuttings or small potted plants 🌿🐛

For Indoor Use or Outdoor Area protected from wind/rain/predators

Drawbridge Door

-

flap hangs down and won't get in your way when cage cleaning or inserting/removing monarch eggs & caterpillars

Finest mesh keeps baby 🐛 in and smallest predators 🐜🕷 out 

Handles for easy portability

Clear PVC Window to observe monarchs while they grow and transform
Traditional side-opening door: never interrupt chrysalises on the cage roof! 
Green Cage folds flat for easy storage.
Add Floral Tube packs + racks to keep milkweed fresh for caterpillars (not included)
Add Poo Poo Platter for easy cage cleaning and floor stability when carrying (not included)
Check out our Instructions Page for additional cage and accessories info
All Butterfly Cage/Kit customers receive an invite to our

Closed Facebook Group

 to discuss raising monarchs + post your photos
Save 15% when you bundle a cage with the How to Raise Monarchs Downloadable Guide (this guide also contains info on finding eggs or purchasing them from vendors, if needed)
US Mainland Standard Shipping (2-6 business days) $7.95
US Mainland RUSH Shipping (2 business days) $25 (order before 1pm ET for same day shipping)
US Hawaii, Puerto Rico, Guam, VI, Alaska weight-based Standard Shipping (2-6 business days) $10.95-$25
No Canada Shipping available at this time
No International Shipping available at this time
We Pay US Mainland Standard Shipping when you spend $50.00+ on Raising Cages, Supplies, and Books
60 Day No Hassle Returns for Unused Raising Supplies
I've raised monarchs before, but not in deluxe accommodations such as your Baby Butterfly Cage!
My son now has five Monarchs living in one. Two are in their final stages before emerging - very exciting! Although my own garden milkweed leaves were consumed, I never did see a caterpillar so will have to wait until next year to house some. Right now we are visiting a South Carolina beach and seeing a fair number Monarchs. I am impressed with the quality of your products and appreciate your rapid shipping!
Raising monarchs in northwest metro
Liked how easy the cages were to use last year, I ordered more this year. I can now keep multiple cages going. Love the floral tubes and trays for keeping milkweed fresh everything is easy to clean.
Monarch cages
Very happy with your service. We rec'd in a timely manner, too.
Thank you!
I was very happy with my purchase. I used it for swallow tails since I had more of those than Monarchs. As of now released 9 swallowtails, with 4 more to emerge. So happy I bought the tall cage. Also have small cage for my Monarchs 🐛
Tall Baby Butterfly Cage
Great cage. Lots of room for using potted milkweed. Zipper placement allows for easy removal of milkweed (and caterpillars) for cleaning.