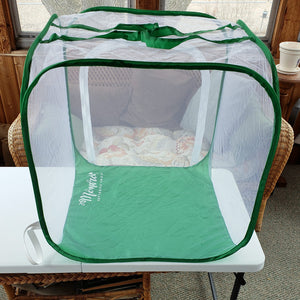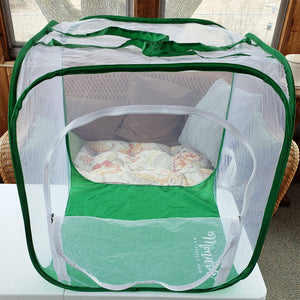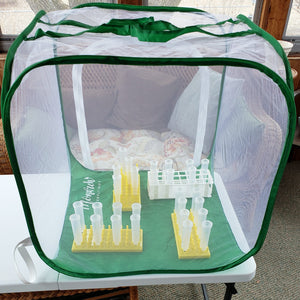 Big Cube INVISImesh Caterpillar Cage w/ Drawbridge Door 24"x24"x24"
Description

Shipping & Returns
SOLD OUT for Season: CLICK HERE for our ✰✰✰✰✰ customer-reviewed Big Cube Cage w/ Viewing Window  <<<<<<
Raise More Monarchs through their butterfly life cycle in a mesh pop-up cage with 4x more floor/ceiling space (24" by 24" by 24") than a traditional cube cage. Raise Monarchs on large milkweed stem cuttings or small potted plants. 🌿🐛
For Indoor Use or Outdoor Area protected from wind/rain/predators
INVISImesh- See Caterpillars from all 4 sides of mesh cage easily with NO viewing window
Our window cages (with tightest mesh) recommended for outdoor raising if cage exposed to tiny ants or parasitic wasps...they can enter

any

cage outdoors when the door is open)
Drawbridge Door:

 flap hangs down and won't get in your way when cage cleaning or inserting/removing monarch eggs & caterpillars

Fine mesh keeps small 🐛 in and small predators 🐜🕷 out 
Side opening door...never disturb chrysalises on the cage roof!  
Green Cage folds flat for easy storage.
Add Floral Tube Packs + Racks to Keep Milkweed Fresh (not included)
Check out our Instructions Page for additional cage and accessories info
All Butterfly Cage/Kit customers receive an invite to our

Closed Facebook Group

 to discuss raising monarchs + post your photos
Save 15% when you bundle a cage with the How to Raise Monarchs Downloadable Guide (this guide also contains info on finding eggs or purchasing them from vendors, if needed)
US Mainland Standard Shipping (2-6 business days) $7.95
US Mainland RUSH Shipping (2 business days) $25 (order before 1pm ET for same day shipping)
US Hawaii, Puerto Rico, Guam, VI, Alaska weight-based Standard Shipping (2-6 business days) $10.95-$25
No Canada Shipping available at this time
No International Shipping available at this time
We Pay US Mainland Standard Shipping when you spend $50.00+ on Raising Cages, Supplies, and Books
60 Day No Hassle Returns for Unused Raising Supplies
ordering 2 more!
I raise my cats indoors since we don't have a porch or other sheltered outdoor space. I'm thrilled that the little guys will have more light and better ventilation since there's no plastic side; I keep a ceiling fan going for them. Plus I'll be able to watch them without opening the cage. I like the roominess of the cages, though I'm going to have to do some rearranging in my office to make space for them. Many thanks!
Large cage
I have had experience with a much smaller round net with a half zipper on the top. It was not user friendly, this one has the zipper in the front and is very accessible to clean, assist caterpillars, etc. It is very large. I have also purchased other nets for gifts and myself in a smaller size and would definitely order from this vendor again. Prompt, fast service. I also wish there was a poo poo platter for this size, too, as it adds stability if moving.
Big cube mesh
I liked the first one so much I purchased a second one. Wish they had a poo poo platter for this size.
Amazing House for My Caterpillars.....
All I can say is, these are a high quality, great view to watch your caterpillars grow daily, easy to clean, and nothing escapes and no bugs come in.... You won't be disappointed.....